Welcome back to our 3rd Spectacularly Swanky Saturday (held on Friday, July 3rd since tomorrow is a holiday and we should all be spending time with friends and family instead of on the interwebs if possible)! If you are wondering what this is all about head on over the Kelly's page for info. Last month we talked about our most anticipated release for the summer (and it just so happened that Kelly read mine and I am anxiously awaiting her review). This means that yes, my TBR grew a bit last month and I am ok with that (my TBR grows on a weekly basis, who are we kidding).
This month we grouped up and read a book together. It is no easy task to choose a book that we all have yet to read and have time for. But we managed, and I am so excited to have knocked this one off my TBR (but in the best way possible).
Chelsea, Lauren, and I read Kiss of Deception by Mary E. Pearson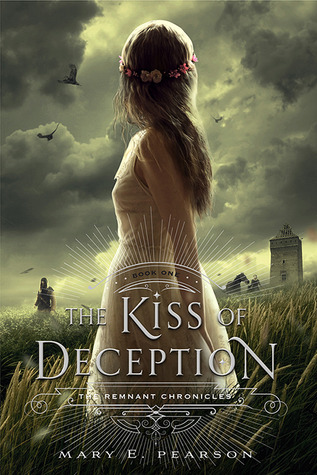 We created some interview questions to ask each other to kind of get all of our feelings for the book out in one place. So this is the place where you will read answers to various questions we came up with, and if you head over to Lauren at Live, Love, Read you will find our reactions to the book in gif form and any other sort of flailing we did not include in this post. How will you know which answer belongs to which person? The colors! Emily will be in red (technically maroon), Chelsea will be in green, and Lauren will be in purple. I am so excited to have both Lauren and Chelsea on the blog to answer these questions with me! So, here we go…
What made you want to read this book?

Have you read that description? It's definitely a book that sounds like something I would be all over. I do love a book where the main character takes control and tries to make her life better, and this seemed to be one of those books to me. SOLD!

It was staring at me from my shelf with that gorgeous cover…And the hype over Heart of Betrayal got me excited to read Kiss of Deception before it came out!

Two things made me really interested in reading this book. 1. It's a fantasy, which already means I wanted to read it!! 2. I had friends reading it with me!! This always makes me want to read a book more so I can have bookish talks!!

What is your favorite quote?

"My dress streamed behind me, now wedding me to a life of uncertainty, but that frightened me far less than the certain life I had faced. This life was a dream of my own making, one where my imagination was my only boundary. It was a life that I alone commanded."
"Maybe there was no one way to define it. Maybe there were as many shades of love as the blues of the sky." 
"It can take years to build a dream, but only a second for it to be shattered." I know this may seem like an odd quote to pick as a favorite, but it just seemed to stick out more than others, plus it has more truth to it than we would like.

What worked for you with this book?

The world worked for me. It was one I could follow but yet kept me wondering. Lia was pretty awesome, which is something I can honestly say about all the character. The author really did a nice job with all of them. The plot concept was interesting and definitely did not let me down.

ALLLLLLL OFFFFFFF ITTTTTTT! 

I really enjoyed the mysterious element behind "the gift" and the strange book Lia stole. Up till the end, the reader kept getting vague details about these two things, but never really knew much about it. Not sure why, but I really liked that.

What, if anything, did not work for you for this book?

Nothing that took away from my enjoyment of the book. The love triangle freaked me out (and if you think that's a spoiler then OH MY GOSH read the plot and tell me it's not obvious..because that is the only point that I will apologize for that). I kind of try to avoid them, but not very successfully. However, this one was not as bad as it seemed. There was a bit of instalove, or so it seemed to me, but again…it got better and less weird.

There was one moment…*looks at Emily knowingly* But it in no way took away from my enjoyment of this book!

The insta love that happened with the characters is not something I enjoyed. I'm glad it worked out differently than I first thought it was going to, but I still wished the author wrote that one part a little differently.

Who is your favorite character and why?

Oh goodness, I loved Pauline. She was an absolute true friend and was by Lia's side no matter what. They would fight and things got in the way, but she did an awesome job of taking her time to get herself through any sort of hump and continue to be there for her friend. It's a friendship that I love and want.

Lia, our spectacular and amazing and badass heroine. But Pauline, our sweet and brave and also badass secondary character AKA Lia's best friend, is close behind her.

Lia. I really like her strong willed character, and even though she may have been born a princess, it was easy to forget while reading that she really was one. She had her moments, but never truly irritated me like some characters can.

Did you ever let out a breath you didn't realize you were holding (meaning how was the plot)?

HA as cheesy and we think this sounds, yes…yes I did. I can think of one scene in particular with fighting in the woods towards the endish that I was like gripping my tablet and furiously swiping to the next page (oh my gosh it sounds WAY less dramatic when I am talking about furiously reading my tablet).

OBVIOUSLY YES OF COURSE. This book is so BAM! BAM! BAM! that breathing? I mean, what is air?

There were a few GASP!! moments, for me, but I never truly held my breath at any points. If there was any part that would make you forget to breathe, it would definitely be toward the end!! Lots of stuff goes down toward the end, and it would be easy to get caught up in the moment.

How likely are you to recommend this book to others?

Very likely, if it's right for their tastes. If they don't like particular elements that are in this story then why would I recommend it to anyone? But I loved this book, and have a few people in mind to recommend this book to (Arika..I'm coming for you with MORE recommendations. Shocker, right?)

I will make you read this book. I will hunt you down and make you read this book. *sweet smile*

Pretty likely, since I already recommended this to several people!! LOL!! I couldn't help but share the joy of this book at the first chance I got.

How many kisses would you give this book? 

This book was pretty darn good. I would probably lean more towards 4.5. 🙂

ALL OF THEM. 5 out of 5, 10 out of 10, 100 out of 100… All the kisses. MUHA!

It was a really good read! Fun and entertaining and I honestly hated to put it down unless I just had to!! So with that being said, I would give this book a 4.5!!

On a scale of 1-10, how badly do you need Heart of Betrayal (10 being OMG SO MUCH!)?

I am going to have to say…8? Like I am very intrigued and interested but I also know I won't be

getting

it right away so I am trying to keep myself calm. Yeaaaa I won the book in a giveaway (YAY! Thank you so much Amber! You can find her at This Just Read

) so I will hopefully be diving in VERY soon!

OMG SO MUCH!

Probably say a 9! I really want to know what happens, and can't wait to dive back into the world with Lia and Rafe..and Kaden. Unfortunately this all depends when my library will have my copy in!! I already put a hold on it so no one else could get it before me! 
Have you read this book? What was your reaction to it? I would love to hear your thoughts.
Feel free to join in on this month's Spectacularly Swanky Saturday (and all the other ones too!). Just be sure to use the hashtag #SwankySat so that we can see all that joined. Also feel free to leave your post in the comments! I love adding new books to my TBR and am looking forward to hearing what else people have read together!
(Check them out…Kelly and Lauren (Live, Love, Read), Lindsey (Bring My Books), Brittany (Please Feed the Bookworm), and Chelsea (She likes to bounce from blog to blog but you should DEFINITELY add her on goodreads!))
August 1st – Summer Fling! Who is your book boyfriend? Tell us how you met and what your relationship would be like! This can be real (i.e. I was reading SJMaas and came across Rowan and was all ?!$%%$*), or it can be a completely made up story (i.e. Walking along the beach, I spotted him. His body was far too perfect to be true with "Rowan" tattooed between his shoulder blades. My eyes must have been tricking me). Have fun with it!