Welcome back to our 2nd Spectacularly Swanky Saturday! If you are wondering what this is all about head on over the Kelly's page for info. Last month we talked about all of our dream libraries, and it was awesome to see how a lot of ours were so similar yet SO different. This month we are talking about our most anticipated summer releases.
Does it make me a bad booknerd if I saw this was no easy task for me?
Ok, maybe I should rephrase that because you are probably thinking I have this LONG list of most anticipated books that will be released in the summer. Truth is, not so much. It's not that there aren't AMAZING books coming out this summer because I know there are. For some reason all the books that I am so set on and counting down the days for are either fall releases or they were just released in the spring. For some reason my summer is empty of books I am dying to get my hands on. I am also really bad at paying attention to release dates, which is probably another issue. When looking through my TBR I did see some that have summer releases, and after reading through I think I found the book I am most excited for: Tanlged Webs by Lee Bross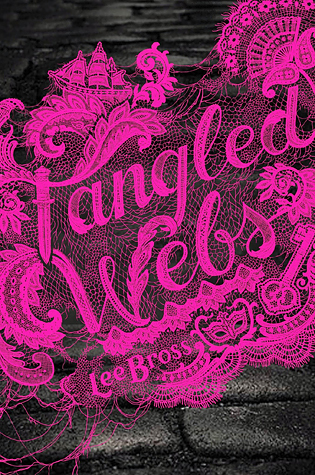 London, 1725. Everybody has a secret. Lady A will keep yours—for a price. This sumptuous, scandalous YA novel is wickedly addictive.
Lady A is the most notorious blackmailer in the city. With just a mask and a gown to disguise her, she sweeps into lavish balls and exclusive events collecting the most valuable currency in 1725 London—secrets.
But leading a double life isn't easy. By day Lady A is just a sixteen-year-old girl named Arista who lives in fear of her abusive master, Bones, and passes herself off as a boy to move safely through the squalor of London's slums. When Bones attempts to dispose of his pawn forever, Arista is rescued by the last person she expects: Jonathan Wild, the infamous Thief Taker General who moves seamlessly between the city's criminal underworld and its most elite upper circles. Arista partners with Wild on her own terms in the hopes of saving enough money to buy passage out of London.
Everything changes when she meets Graeden Sinclair, the son of a wealthy merchant. Grae has traveled the world, has seen the exotic lands Arista has longed to escape to her whole life, and he loves Arista for who she is—not for what she can do for him. Being with Grae gives something Arista something precious that she swore off long ago: hope. He has promised to help Arista escape the life of crime that has claimed her since she was a child. But can you ever truly escape the past?
Release date for this beauty: June 23rd (soooo only a couple more weeks! I got this!)
If you know me well then you know this book sounds totally and completely like something that I would love. I swear somewhere in that description there must be a THIS IS FOR EMILY written in there. Just to sum it up…
–Arista/Lady A sounds AWESOME. I love a story with a strong main character (male or female…just seems I read a lot from a female's perspective than a male's these days). I honestly struggle if the book is told ENTIRELY from a whiny, weak, and slightly pathetic main characters (I sometimes wonder how I made it through the Twilight series. I think by finishing book 4 I rethought my life choices, but how did I go on reading a book when I hated the MC so much?). It's one thing if there is character growth and if they learn from what they are experiencing and grow from it, but if there is no growth and they just continue to let their current situation own them then I'm done. As in real life things kind of suck, but if you let them own you and do nothing then life will be tough. I feel like this MC will own, and I sure hope that I am right.
–THAT SETTING. It's not too often you find a book that is set in 1725 London, and that fact alone is something that draws me to it. I have a thing for historical fiction, and though my deep (and recent) love for fantasy has kind of stood out I still feel the need for some awesome historical fiction in my life. I hope to find that this book has me wanting to learn MORE about this time period just like Scarlet made me want to learn more of the Robin Hood tales and that time period in England. 
–Blackmail and badassery. What great book does not need at least one of those two things? The synopsis just gives off that vibe, and I have very high expectations and hope it does not disappoint. I also do not read a lot of books about females who are blackmailers. It kind of just happens in a lot of the books that I read, but to have one that it states this is what she does…awesome. 
–It's going to be a series! According to Goodreads. If you know me well you know that I seem to have a slight addiction to books in a series. I don't know what it is but that always seems to be a high selling point for me. It's like I know that there will be more so that I can continue to see these characters live on for more books. Sadly, this also typically involves heartbreak and tragedy and death, but the world continues on. This always means I have longs lists of series that I need to finish, but oh well. 

This book just sounds so awesome and I cannot wait to get my hands on it. Just gotta keep reminding myself that I can do this! I can wait for it! I will get there.
Is this one of the books you are looking forward to this summer? What other books are you anticipating?
Feel free to join in on this month's Spectacularly Swanky Saturday (and all the other ones too!). Just be sure to use the hashtag #SwankySat so that we can see all that joined. Also feel free to leave your post in the comments! I love adding new books to my TBR and am looking forward to hearing what else is highly anticipated this summer!
(Check them out…Kelly (Live, Love, Read), Lindsey (Bring My Books), Brittany (Please Feed the Bookworm), and posts by both Lauren and Chelsea (Between the Pages))
July 3rd FRIDAY – Buddy Read! (PLEASE NOTE DATE CHANGE TO FRIDAY to observe U.S. Independence Day) Buddy read a book with a friend and post about it together! Write a review, interview each other, show your reactions throughout the book in memes, BE CREATIVE! Do this post however you would like to while working to connect with someone new!
So, since the next one is for buddy reading I am REALLY encouraging you to join in on the fun! I would LOVE to have a buddy to read with, though I know that can be tricky since some people plan out their TBRs for the month. Here is a link to my rather large list of books I would like to read on Goodreads. Any of ours match up? I would be open to buddy reading ANY of those books, but some that are at the top of my list…Trial By Fire by Josephine Angelini, The Game of Love and Death by Martha Brockenbrough, Grave Mercy by Robin LaFevers, The Kiss of Deception by Mary Pearson, The Winner's Curse by Marie Rutkoski…that being said, ANY of the books on my list are fair game because I would love to be able to read them ALL. I am very flexible with my reading (because I can't get myself to plan my TBR to save my life) so it's all fair game.
So what say you? Would you like to be my buddy and read a book with me?