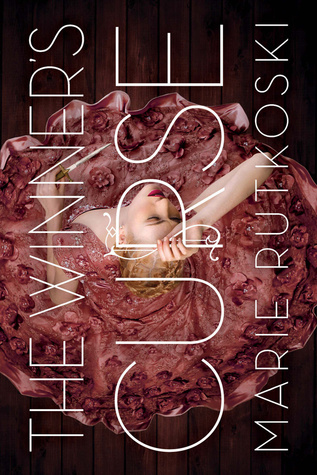 Winning what you want may cost you everything you love… 
As a general's daughter in a vast empire that revels in war and enslaves those it conquers, seventeen-year-old Kestrel has two choices: she can join the military or get married. But Kestrel has other intentions.
One day, she is startled to find a kindred spirit in a young slave up for auction. Arin's eyes seem to defy everything and everyone. Following her instinct, Kestrel buys him—with unexpected consequences. It's not long before she has to hide her growing love for Arin.
But he, too, has a secret, and Kestrel quickly learns that the price she paid for a fellow human is much higher than she ever could have imagined.
Set in a richly imagined new world, The Winner's Curse by Marie Rutkoski is a story of deadly games where everything is at stake, and the gamble is whether you will keep your head or lose your heart.
To add The Winner's Curse to your Goodreads click here!
Initial reaction upon finishing:
I know, I know. I am late on this one. Like way late. I think book 2 just came out this year (THANK GOODNESS) and people have been loving and flailing over this one for awhile but OH MY GOSH IT CAN BE SO HARD TO GET NEWISH BOOKS IN YOUR HANDS AND AT LEAST I AM HERE NOW! Better late than never right!? This book was excellent. Seriously, excellent. I got lost in it so easily and it just felt like such a me book. The world, the story, the emotions, gosh…that was crazy good. Here's just a few things I loved about this book:
CHARACTERS: Oh goodness the characters in this book were awesome. Kestrel is this strong young woman who is still coming into her own. She fights for what she believes in and what she knows is right, and she is kind and compassionate to EVERYONE even if they prove to not deserve it. Arin was awesome too. He was also compassionate and caring, but had a bit of a dark side that would sometimes (but not always) show. The way their history brought them together was excellent and also broke my heart into a million pieces. I also really loved Jess, even though sometimes I felt like she was kind of an idiot. She was always there for her friend, just not always in the way that was best at the moment.
PLOT AND WORLD: There was action! There was drama! There was espionage (well, I think…I am not 100% sure if that is the word I am looking for right now but it's as close as I can get)! There was friendship! There was romance! There were feels! It was kind of all there. The way the plot came together was phenomenal. I loved how all the intricate details became so important at some point and the world that was created in this book….FANTASTIC! It kind of brought me back to when I was into more of a dystopian kick and I loved that .
WRITING: Marie Rutkoski sure knows how to write a story. It was one of those stories that just flowed so well and that you could reading 100+ pages in a sitting and not even fully realize that you had just done that. It was addicting and it painted such a good picture of the world and what was happening. It made me feel like I was there (because I was, duh!). It was amazing, and not bogged down with tons of unnecessary details.
BONUS: Book came with lots of feels, some predictability (but not complete predictability), a lot of swoons, and an intense need for the next book!
So glad I was able to get this book and read it. I devoured it much faster than usual and am very much so looking forward to getting the next book in my hands. I just have to know where the characters go next. But I think I need time to prepare, because I fear this next one will break my heart. 
Have you read this book? I would love to know what your thoughts are!