Isn't it funny how books can touch us in the deepest and most meaningful way!? Obviously there is a reason that authors do what they do, and it's just so fascinating that they can take ordinary words and put them into the context that makes us feel emotions, that makes us cry. We are always in awe of the talent levels of authors. Even the authors that are more "mediocre" have more talent than we could ever dream. It's amazing what authors do, and we are in awe of your work (whether it's a book for us or not).
Book quotes are some of our favorite things, ones that we tend to forget to share. They remind of the story we read, of the journey we are on in our lives, and the feelings that we have had (or are having) in our lives. These are the quotes that we write down wherever we can, that we put up all over the internet, that we share with so many people because they are on a journey too…and maybe these words can help.
So today, and randomly throughout the months, we will be sharing some words that we have read that have hit us. For our first post we have a very special theme for you.
For the 20th birthday of the Harry Potter books, we have decided to pick a book from the Harry Potter series to share with you! If you are among the mass of Harry Potter nerds (just like us) then you know that it is SO hard to pick a quote. JK Rowling just has such a way with words, and we could probably pick multiple quotes from each book. But here are some of the quotes that have stuck with us…
"If you want to know what a man's like, take a good look at how he treats his inferiors, not his equals."
"We've all got both light and dark inside of us. What matters is the part we choose to act on. That's who we really are. "
"It is our choices, Harry, that show what we truly are, far more than our abilities."
"I solemnly swear I am up to no good."
"There are some things you can't share without ending up liking each other, and knocking out a twelve-foot mountain troll is one of them."
"You sort of start thinking anything's possible if you've got enough nerve."
"After all this time?"

"Always," said Snape.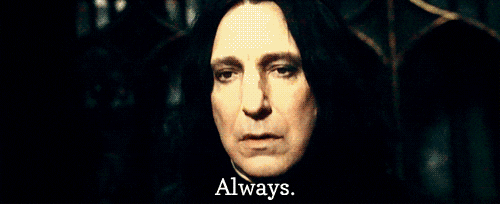 ANNOUNCEMENT! There is more than one reason that we are sharing Harry Potter quotes today. Not only are we celebrating 20 years of the series that drove us further into reading, but we are also planning on…A HARRY POTTER REREAD!
That's right! Starting this Monday (June 26th) we will be opening up Harry Potter and the Sorcerer's Stone (for the first time in AGES) so that we can once again get lost in that world. Let us know if you want to join us (comment or email) and we can set something more formal up. But that means you should probably be looking for more Harry Potter on the blog in the future.
NOTE: We will be using the hashtag #mdwstreadalong on twitter and instagram if you want to keep up to date with what we are doing. We are pretty pumped for this.
QUESTION: What are some of your favorite Harry Potter quotes?