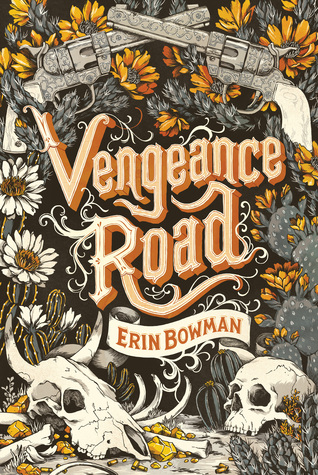 Revenge is worth its weight in gold.
When her father is murdered for a journal revealing the location of a hidden gold mine, eighteen-year-old Kate Thompson disguises herself as a boy and takes to the gritty plains looking for answers—and justice.
What she finds are untrustworthy strangers, endless dust and heat, and a surprising band of allies, among them a young Apache girl and a pair of stubborn brothers who refuse to quit riding in her shadow. But as Kate gets closer to the secrets about her family, a startling truth becomes clear: some men will stop at nothing to get their hands on gold, and Kate's quest for revenge may prove fatal.
Add Vengeance Road to your Goodreads!
Find Vengeance Road on Amazon!
Initial reaction upon finishing: 
Oh gosh, this book was amazing and unexpected. I mean, I guess I had high expectations being that I pre-ordered it with Queen of Shadows (which was also fantastic if you have not yet heard). It intrigued me because it was something different from what I had been reading a lot of lately (seriously, so much fantasy. I love it, but I don't want to overdo it). Also, this was a standalone. Yes, you read that right. I have been in the middle of so many different series this year that I decided I needed to stop. This book was just what I needed. Here are a few things I loved about this book:
WESTERN: Ok, I have to admit…as a kid I read a lot of historical fiction. I read a lot of books about people during the westward movement or people who had settled in towns such as Kate and her family did. This book made me a bit nostalgic and had me thinking of all those other books I had read as a kid. Even with that, I did not expect to love this book so much. I have never really been into westerns. I like them, don't get my wrong, but I wasn't one to choose them over other movies. I was so into this one. I loved the feel of this book and the sense of adventure. I could picture it so well too. Awesome. 
CHARACTERS: I kind of loved Kate. I felt that she did grow throughout the book even though she is essentially fueled by her own need for vengeance (Vengeance Road, get it?). I think that even though she is constantly fueled by that she also starts to see the importance of other aspects of life. I think she sees that it's not everything eventually. Not to say that it just goes away halfway through the book or anything like that. This is a book based off of the need for vengeance. It just seems that it eventually is not the only thing that is on her mind. Then there were the brothers, complete and total opposites but both so awesome. They were perfectly imperfect. They seemed to be in touch with their flaws and would own up to them, but at the same time they were kind of badass. They fought for their family over anything else. I found myself really cheering both of them on no matter the circumstances.
PLOT: I must say that this book has some twists and turns that I just did not see coming. It's possible that I don't read enough westerns to predict various parts of this book but oh well. I was so emotionally invested that some twists had me in tears (for happy and sad reasons. I am trying my best to not spoil things too much I promise) and had me checking back to make sure it really happened. Some things happened A LOT faster than I had anticipated, which then led me to try to figure out what would happen the rest of the book. It was so fun to try to follow along and then to find that your predictions were completely and totally wrong. I loved it.
This book was an awesome, fun adventure that ended just so perfectly. I feel like this was an adventure that I really needed to take after working through Queen of Shadows. I loved every single minute of it. I loved this book so much that I made a Pinterest board for it. Go ahead and check it out.
Have you read this book or is this something you would add to your TBR?
all images can be found on my pinterest board, and on their original websites.