For info on First Line Fridays and past posts click here.
NOTE: Slight change to First Line Fridays. I absolutely LOVE doing this, but weekly…that's INSANE. I will now be doing First Line Fridays on the 2nd and 4th weeks of the month. I still wanted to do one this week and you will see why (that and I wanted to put this note in as well)
This week's line comes from a book that is seriously being hyped up like crazy, and with that first line I want to hype it up too. I was in the bookstore the other day and picked it up because I hard heard so much about it. I decided I would just open it up to the very beginning and read it to see how I felt. Man, I had a hard time NOT purchasing that book (its on my OTSPSecretSister wishlist and I decided I could wait a LITTLE longer before caving so I passed on it and I feel like someone should reward me for it with cookies or by buying me this book). So…here it is:
Our dragon doesn't eat the girls he takes, no matter what stories they tell outside our valley. –Uprooted by Naomi Novik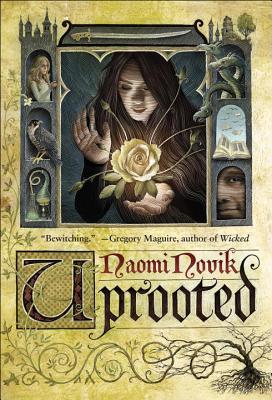 Have you read this one? Because I am seriously DYING to now and want to hear how you felt about it!