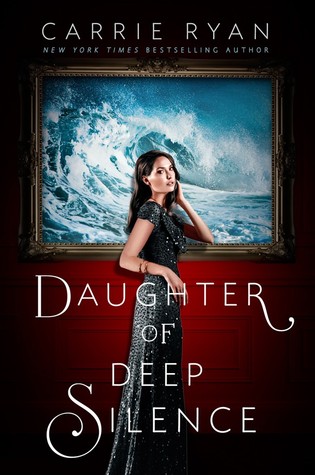 I'm the daughter of murdered parents.
I'm the friend of a dead girl.
I'm the lover of my enemy.
And I will have my revenge.
In the wake of the devastating destruction of the luxury yacht Persephone, just three souls remain to tell its story—and two of them are lying. Only Frances Mace knows the terrifying truth, and she'll stop at nothing to avenge the murders of everyone she held dear. Even if it means taking down the boy she loves and possibly losing herself in the process.
I would like to thank Kelly over at Live, Love, Read for lending me her copy of this fantastic book! This is no way sways my thoughts and opinions on this book.
Initial reaction upon finishing: 
This book was definitely an emotional roller coaster and I had no clue it would feel like that. I had no clue that I would break a little bit for the characters and the situations that they have been put in. I honestly have no clue what I was expecting when I started this book. I thought the description sounded awesome and it would be a great break from my fantasy kick (WHICH IT WAS! IT WAS SO GOOD GUYS!). So here are some awesome things about this book:
REVENGE: You know that TV show that used to be on ABC called Revenge? Well this book is PERFECT for people who loved that show. It honestly screams Revenge, which kind of scared me at first. At the beginning I was finding so many similarities that I was a little worried it would just read like the show did. BOY WAS I WRONG! I think it constantly had those similarities but there were things added to the plot that made it so different from the show. I feel like I felt pretty emotionless as I watched the show and just got addicted to its cheesiness (sorry if that offends anyone, but my gosh was it cheesy). This book was done better, in my opinion. If you are missing that show in your life PLEASE pick up this book.
MAIN CHARACTER: I had no idea that my heart would break so much for this main character, Frances. But oh my goodness did she kill me a little bit. Her life situation is not at all the most fabulous, but then you sit and wonder how much was her own doing. And you want to reach out to her and help her. She was fueled by her need for revenge, but at the same time it wasn't all that controlled her. You could see her struggling with it. You could see her questioning what she was doing and if it was for the best. The author really did a nice job in making her so incredibly human and not just a robot with revenge to keep them moving. Throughout the book she comes to terms with so many things in her life and it's awesome and heartbreaking and not at all what I was expecting 
PLOT: The plot in this book was awesome. I mean, read the description. It just sounds like a book with so many twists and turns (and man did it have those). There was a lot of action, but not so much phyiscal action as mental and emotional. There was so much manipulation and undermining of other characters that it just got to be interesting. It made me kind of hate and love everyone at the same time as you watch that basically everyone is initially out for themselves (but don't think it's like that all the time…). The plot kept me hooked, the plot had me reading tons of pages in one sitting, and the plot had me CURSING the fact that I did not enough hours in the day to just sit and finish the book. 
BONUS: Grey (ohhhhh man, cue the swoons), AWESOME (and heartbreaking and confusing and OH MY GOSH ARE YOU SERIOUS) ending.
I really enjoyed this book oh so much. It was one that I had NO CLUE how it would end and I kept trying to guess and failed at guessing because all of my theories would be shattered about a page or two after making them. It was so awesome and I really really recommend that you give this book a chance. And then you will realize just HOW HARD it is to talk about this book without giving anything away. Oh man, it's so difficult.
Have you read this book or is it something you would like to add to your TBR? I would love to hear your thoughts!