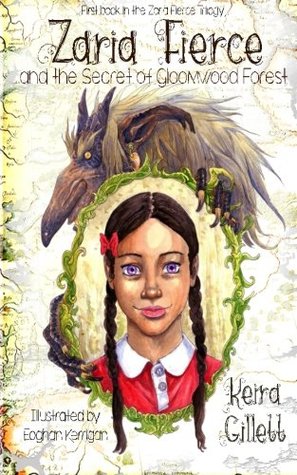 On her birthday, Zaria Fierce finds her usual path to school blocked by an ugly river-troll. At first she's surprised and curious, but then Olaf threatens to eat her, which is an act Zaria could not in good conscience consent to, so Zaria counteroffers. A deal is struck and she goes to school, but Zaria is about to learn the hard way that one does not trick a river-troll and expect to win.
To add Zaria Fierce to your Goodreads click here.
To find Zaria Fierce on Amazon click here.
To learn more about the author, Keira Gillett, click here.
For Blog Tour post for Zaria Fierce click here.
Initial reaction upon finishing this book: 
This was such a fun book to read. It was one of those adventure books that you kind of wish you had when you were a preteen, if that makes sense. For me personally…it would have fit right in there with everything else I read and I think it was still a super fun read at this time in my life. Kind of a nice break in the middle of all the chaos in my life. A few awesome things I found in this book:
SETTING: Oh my goodness, it is SO rare for me to stumble upon a book that is set in MODERN DAY Norway. I absolutely loved hearing how the main character got there and how she was adapting to this setting by reading books. It was sometimes hard to remind myself that this was Norway, and then it was hard for myself to remember that this was modern day. Gillett definitely did a great job putting current technology in there to keep with that modern feel. There was iPads, texting, all of that. It's not the setting you expect for a fantasy adventure, and for that I absolutely loved it.
MAIN CHARACTER: Zaria was so stinking relatable. Right from the beginning I was laughing and shaking my head because she dealt with things how I did at 13 or how I am now dealing with things at 26. Her love for reading is something that I had at her age and still have now. Her love for fantasy, adventure, and fairy tales is exactly what I was into at still kind of am. She dove into books to learn about where she lived and to help her cope with the move, which is exactly what I did. She was brave (even though the reader could sometimes see her fear), she was smart, and she was a great main character for young girls to look up to.
ADVENTURE: This was a book that jumped right into the plot. There was very little time wasted on details leading up to the adventure that Zaria went on, and for that I am so thankful. I love when the details are given throughout the story and not ALL right away at the beginning. I love when a story jumps right in a hooks me like this one did. It was an adventure that was constantly moving forward and I think could maintain the attention of any reader at any level.
BONUS: Diverse characters, a stargazer that I NEED as a reader, awesome pictures!
This book was seriously so fun, and was a nice distraction from life. I highly recommend you look into it if you are in the mood for a fun adventure. I also recommend that you get it for any book loving middle schooler you know. This would have been right up my alley at that age, but sadly did not exist at that point (well at least it did not exist in my hands). Support an indie author and dive into a completely new series! 
Does this sound like a book you would be interested in?
Thank you so much Keira Gillett for giving me the opportunity to read this book! And for visiting my blog a few weeks earlier! It has been great talking with you and reading this awesome book. Looking forward to hearing what's next!