Let me start by saying that this was SO HARD for me to figure out. So far I have had a pretty solid reading year. I don't read AS many books as most people, but I have read some really good ones and really started to struggle in narrowing it down.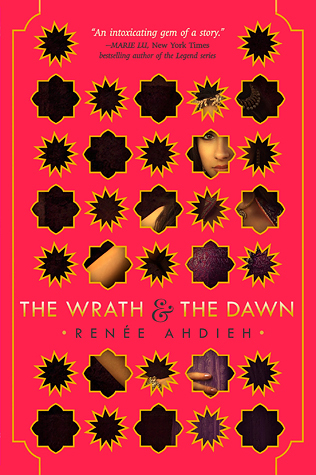 The Wrath and the Dawn by Renee Ahdieh: Loved, loved, loved this one. Like immediately went into my list of favorite books! Look here for what I had to say about it. 
Lion Heart by AC Gaughen: If you know me well you know that I adored this series, and this conclusion was perfect. It finished it in the perfect way. I would not say no to any further stories about these characters, but I guess I will be ok if that never happens. (but only kind of…) 
The Orphan Queen by Jodi Meadows: I kind of still can't get over this one guys (OH MY GOODNESS CAN I JUST HAVE BOOK TWO NOW!?). It was so good and I was so hooked. If you want to listen to me go on about my feels with this book then look no further. 
Red Queen by Victoria Aveyard: This book sounded epic, and it was. It was exactly what I needed to be reading at that time and I am "patiently" awaiting book two. 
First Year (Black Mage #1) by Rachel Carter: This is a book that my friend kept telling me to read, and man was I sad I had waited so long to try it. It was a fun read that I found myself really involved in. It was just awesome, and you should probably read it too if you haven't already. 
Snow Like Ashes by Sarah Raasch: I just love the world that the author built and loved watching the main character grow. This world is one I felt totally immersed in. 
Shatter Me by Tahereh Mafi: I read this in 24 hours. That is a very rare accomplishment for me. And the fact that I have been unable to get my hands on the next book kind of kills me. 
Scarlet by Marissa Meyer: This book was even better than Cinder and I am so mad it took my so long, but at the same time I am really trying to hold off on Cress because then I will just need Winter. Does anyone else understand my situation? I sure hope so… 
The Storyspinner by Becky Wallace: Oh my gosh I loved this book. The world was awesome, and the multiple POVs was something I finally understood. I was confused at first but then it got to the point where I just could not imagine it being told any other way. The perfect book to read to avoid a post-Lion Heart book hangover. 
Illusions of Fate by Kiersten White: A perfect standalone fantasy book. A book that I just keep wondering why people are not talking about as much. I loved the characters, world, and basically everything else. Seriously, so many happy thoughts towards this book.
Books that just BARELY missed this list (only because I am really TRYING to keep it at 10 guys): A Court of Thorns and Roses, I'll Meet You There, Gates of Thread and Stone, How to Say Goodbye in Robot
I just noticed that I have read SO MUCH fantasy this year (well, so far). My goodness. But I am loving everything that I have been reading this year and it has been so hard to choose because I have gotten my hands on some awesome books.
What are some of the best books that you have read this year?