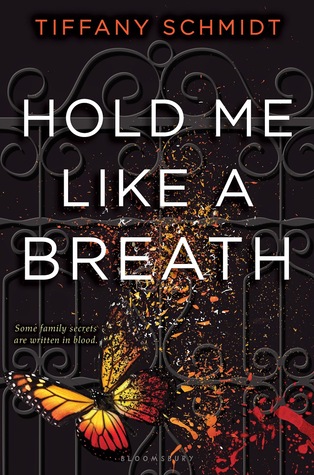 Penelope Landlow has grown up with the knowledge that almost anything can be bought or sold—including body parts. She's the daughter of one of the three crime families that control the black market for organ transplants.
Penelope's surrounded by all the suffocating privilege and protection her family can provide, but they can't protect her from the autoimmune disorder that causes her to bruise so easily.
And in her family's line of work no one can be safe forever.
All Penelope has ever wanted is freedom and independence. But when she's caught in the crossfire as rival families scramble for prominence, she learns that her wishes come with casualties, that betrayal hurts worse than bruises, that love is a risk worth taking . . . and maybe she's not as fragile as everyone thinks.
Add Hold Me Like a Breath to your Goodreads!
Initial Reaction Upon finishing:
This is a book that has people all over the board with it, and I had intended on just doing a short little post on it with some other books, but after I sat and thought about it I just can't. I need to get my words out…
I really enjoyed this book! There were parts that were pretty "meh" in my opinion, but the good totally outweighed the bad and I came out really liking what happened and how we got there. The twists and turns this book took were really awesome, and the characters (for the most part, which you will understand once you read this book) really grow on you. Here are the 3 things I really loved about it:
IT'S A FAIRY TALE RETELLING: Is it retelling or re-imagined? Either way that is something that I love in books. I love that authors can take a classic fairy tale and really put their own mark on it while giving credit to the original tale. Though this one is a retelling of The Princess and the Pea (please correct me if I am wrong, I know there are Rapunzel references as well). This does not mean that the book is bogged down with magic. It was modern with no fairy godmothers. Fantastic. 
ALL THE MEDICAL TALK: Ok, this sounds ridiculous coming from me doesn't it? I am pretty much completely and totally uninterested in anything in the medical field, but I love how the author put a REAL LIFE issue in the book. How she came out to say what she supports and she tries her hardest to convey the difficulty in getting organ transplants and whatnot. And from what I could tell it was all pretty accurate. I actually came away from this book learning some new things about an autoimmune disease I knew nothing about.
TWISTS AND TURNS: Yes, some of the twists and turns of this story I saw coming, but at the same time they caught me off guard. It's one of those instances where you know whats going to come up but you have NO idea how it will happen. That is where I was with this book. I knew that something was off about certain people and I could sense who and what were going to be HUGE plot changers, but I didn't know when or how big they would change things. 
BONUS: The characters really grew on me. I feel like I watched Penelope transform throughout the book and though I was feeling no positive feelings towards her in the beginning I found myself really liking her and cheering for her towards the end.
Now, I did mention that there were some things that made it feel "meh" to me at times, and since I see SO MANY mixed reviews on this book I thought I should address them. Because this book is great, but that doesn't mean it was perfect and I just really want more people to give it a chance…
The plot did seem a bit slow for awhile. When things happened it was awesome, and I was totally hooked on those last 50-100 pages because things just kept happening. But the beginning was kind of slow, which made it hard to get into right away. Don't let that scare you away! Keep pushing through. My rule for myself is always 100 pages, and if I still feel meh then I put it down. By 100 pages in I was very interested and invested in the story.
I was not totally sold on the romance aspect of it until the very end. I am going to try REALLY hard to not spoil anything, but I just kind of felt like that plot was THROWN in there. And I honestly hated it for awhile. It got better and it started to make more sense and I think looking back I totally understand it. The presentation was just a little odd for me. But I ended up liking it in the end.
I really did enjoy this book. It is not at all like anything I have been reading lately and I love what Tiffany Schmidt did to this story. She added so many twists and turns to the story and presented a story line that I knew very little about coming in to the beginning of this book. I feel like I learned from her book, and I love that about it. I am very much so looking forward to seeing what happens in book two (because I literally know nothing about book two). 
How about you…have you read this book? Is this something you would want to read?