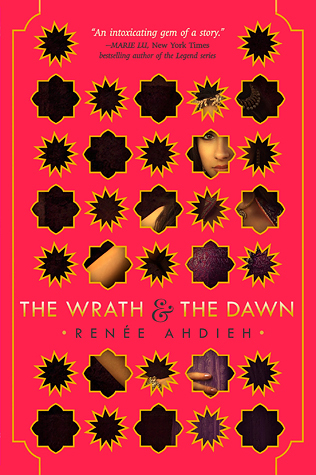 A sumptuous and epically told love story inspired by A Thousand and One Nights. Every dawn brings horror to a different family in a land ruled by a killer. Khalid, the eighteen-year-old Caliph of Khorasan, takes a new bride each night only to have her executed at sunrise. So it is a suspicious surprise when sixteen-year-old Shahrzad volunteers to marry Khalid. But she does so with a clever plan to stay alive and exact revenge on the Caliph for the murder of her best friend and countless other girls. Shazi's wit and will, indeed, get her through to the dawn that no others have seen, but with a catch . . . she's falling in love with the very boy who killed her dearest friend. She discovers that the murderous boy-king is not all that he seems and neither are the deaths of so many girls. Shazi is determined to uncover the reason for the murders and to break the cycle once and for all.
Click here to add The Wrath and The Dawn to your Goodreads
Initial reaction upon finishing:
This book was just as amazing as everyone keeps saying it is! And since everyone is talking about it I will try to keep this kind of short, but I think I really needed to just convey HOW MUCH I loved it. If you know me well then you know that since the Scarlet series ending I have been a little sad. I just adored that series to pieces and now that it's over I just kind of feel meh towards new books. I just cannot figure out where I will find another series that I love just as much as Scarlet. Well, this book is my new Scarlet. It was so fantastic and I just fell in love. I am terrified of not doing this book justice, but here are 3 reasons why you should definitely add this book to your TBR:
THE WRITING! The writing was just so darn good! This author has a way with words and a way with making you connect to the text and the story. The words flowed so smoothly and gave the story that rich feel that you would expect from a story like this. It made everything real and made me wish the book would never end. I just really feel like I NEED to give you a sample (all quotes taken from Goodreads!):

"She was a dangerous, dangerous girl. A plague. A Mountain of Adamant who tore the iron from ships, sinking them to their watery graves without a second thought. With a mere smile and a wrinkle of her nose."
"Love is a force unto itself, sayyidi. For love, people consider the unthinkable…and often achieve the impossible. I would not sneer at its power."

ROMANCE! Oh, my heart! It was as swoon worthy as the romance in Scarlet. It was passionate, real, and not super raunchy (sorry, I can deal without the raunchiness. I like simple, pure, and whatnot). It moved the plot along instead of just being something that is added on to the plot. Without the romance there really would not be much of a story at all. It was also a romance that kind of gutted you, but that's cool. That seems to be the kind of romance I prefer in books (and in a good way…I promise)
PLOT! The plot of this story was AWESOME! It kept me constantly left wondering how things would work out, if they would work out. There was a lot of mystery that continued to keep me hooked to the story until the end (and now has me CRAVING book two because I just have to know what happens). I was completely and totally in the story the whole time. And the romance kept the plot moving forward. It did not distract or keep you away from it. I know bits and pieces of Arabian Nights, but I really enjoyed this retelling (because there were parts that I recognized!)
Bonus: GLOSSARY! (this was a lifesaver guys! I mean yes, there were times where I could tell what words meant using those fabulous context clues, but other times it was not so easy) CHARACTERS! (it should be a no brainer that there are awesome characters in this book. I adored Shazi. She was snarky and brave but also had her flaws. Not a single character in this book was perfect but they all worked so well. I do think that Shazi is one of my new favorite female characters)
I cannot say enough just how much I loved this book! If you get the chance I HIGHLY recommend you read it! 
Have you read this book? If so, what did you think? If not, is this something you would add to your TBR?