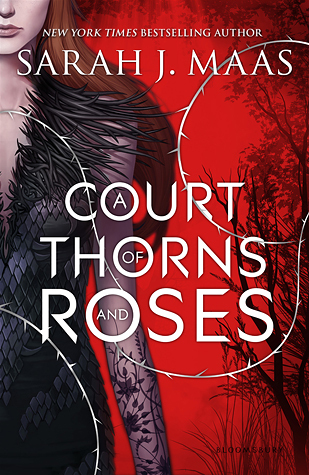 A Court of Thorn and Roses by Sarah J Maas:  When nineteen-year-old huntress Feyre kills a wolf in the woods, a beast-like creature arrives to demand retribution for it. Dragged to a treacherous magical land she only knows about from legends, Feyre discovers that her captor is not an animal, but Tamlin—one of the lethal, immortal faeries who once ruled their world. As she dwells on his estate, her feelings for Tamlin transform from icy hostility into a fiery passion that burns through every lie and warning she's been told about the beautiful, dangerous world of the Fae. But an ancient, wicked shadow grows over the faerie lands, and Feyre must find a way to stop it . . . or doom Tamlin—and his world—forever.
Initial reaction upon finishing this book:
This was quite the book, and I cannot believe just how fast I read this. It was a book I was initially unsure of but am glad I was given the opportunity to give it a chance. I think it's worth the read, and here are 3 reasons I think you should keep it on your radar…
IT'S SARAH J MAAS. Yeaaaaa I seemed to have forgotten that. She is something else and is capable of crafting quite the story. She makes characters feel real even though they are not at all real (sorry guys, Tamlin is not real…it is a fantasy novel..). I really enjoy how her writing isn't bogged down with descriptions and details (though they are in there when necessary) and the action happens so quickly that you are instantly hooked.
BEAUTY AND THE BEAST.  Yes, it's a Beauty and the Beast retelling, which was awesome. I love fairy tale adaptations and retellings, so much. I love seeing what authors can do with that story and how they can make it their own while still sticking true to the fairy tale it is based on. The element of Beauty and the Beast in this story made it so interesting. It helped move the plot along and helped me make a lot of different connections to this story. This was definitely darker than the Beauty and the Beast retellings that I normally would read but definitely enjoyable.
CHARACTERS AND PLOT, CHARACTERS AND PLOT. Sarah J Maas has this way of creating characters that make me feel emotions. I love them. I cheer for them. I hope for them to succeed. I cannot stand them. I hope for their evil plots to fail. I hope for them to see the wrongness in their ways and move on. She crafts some awesome characters. The plot was fantastic. When I read reviews for this book all I heard about was the swoony romance (which was a thing, and it was swoony) but not a lot of people were talking about the actual plot of the story. It's not just romance guys. It's romance and action and adventure. There are mind games and deception. It was awesome.
I would definitely recommend this book to anyone that loves Sarah J Maas. If you adore the Throne of Glass series you should probably just continue to read books that she writes.
Why was I unsure: I think it's only fair for you to know my initial hesitation. I have never really been into books about fairies and the fae. I mean yes, I love princess stories and there are the good and bad fairies and fairy godmothers and such but this was so much more. This was why I hesitated. Did Sarah J Maas change my mind on this topic? Kind of. I learned that I COULD read a story with characters like this, but I almost wonder if I would have to be pretty selective of the authors. I think I would have to know that I loved the author and knew that they could do an excellent job with it. This book definitely did that.
Rating: 4/5 stars
What about you….have you been wanting to read this book? Why or why not?