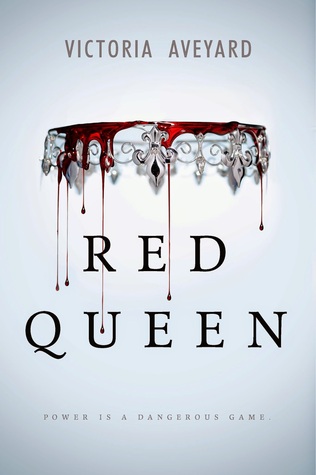 Mare Barrow's world is divided by blood–those with common, Red blood serve the Silver- blooded elite, who are gifted with superhuman abilities. Mare is a Red, scraping by as a thief in a poor, rural village, until a twist of fate throws her in front of the Silver court. Before the king, princes, and all the nobles, she discovers she has an ability of her own.
To cover up this impossibility, the king forces her to play the role of a lost Silver princess and betroths her to one of his own sons. As Mare is drawn further into the Silver world, she risks everything and uses her new position to help the Scarlet Guard–a growing Red rebellion–even as her heart tugs her in an impossible direction. One wrong move can lead to her death, but in the dangerous game she plays, the only certainty is betrayal.
Initial Reaction Upon Finishing:
This book was EVERYTHING I WANTED AND MORE! I mean, there were so many good things to take from it and Victoria Aveyard did a fantastic job making me LONG for the next book (2016, really? I can't wait that long…). Here are 3 of my most favorite things about this book:
THE WORLD! Seriously. She built the most fantastic world. I loved the premise of this book but had NO CLUE how it would work out in the long run. I figured there would be some shortcuts taken to get to places and whatnot (it happens, and I accept that). No such thing happened. The author followed the rules of her world so well and the plot moved around so well with it. It was just SO COOL. This made the book SO much easier to follow.
TWISTS, TURNS, BETRAYALS! OMG the plot was so great. It kept me on my toes CONSTANTLY and never really lulled. The minute I thought things were starting to get a little too slow or starting to tame there would be something crazy happening. She knows how to write a story. I can't really say too much more without giving anything away. Just know that all kinds of things happen that had me needing to know what would happen next.
CHARACTERS! I fell in love with the characters. Mare was awesome. I felt everything through her and experienced everything through her eyes I feel like. When she was hurt by someone I felt that. When she was afraid so was I. She was written so well and pretty easy to relate to (how often have we been thrown into a situation where we know nothing but are expected to know so many things? How many times do we have to make tough choices?). Mare's family was wonderful and heartbreaking. The characters Mare bumped into along the way…oh man. The evil were just PURE evil, to the point where you just want to throw things at them and hurt them. I felt it all.
OK…a few added bonuses…the romance was not overpowering…and I felt a pretty big X-Men vibe, which I loved!
One issues with this book…no map. I definitely would have loved a map. But the author did such a good job with the world that I felt like I could follow along pretty well.
I loved this book SO much and cannot wait until the next book (I think the first novella comes out soon?).
Rating: 4.5/5 Stars 🙂
What about you…have you read this book? What were your thoughts? If you have not read it, is this something you would add to your TBR?