I have been doing a lot of reading lately, and yet my biggest question is…WHY HAVE I NOT TALKED ABOUT THESE BOOKS YET? Seriously…I have read more than I typically do and have not even mentioned them on here. I mean..what is that even? So I'm going to do a few short little book talks (because I hate the words review, especially when I just end up gushing about EVERYTHING) in order to catch up.
Scarlet by Marissa Meyer: Cinder, the cyborg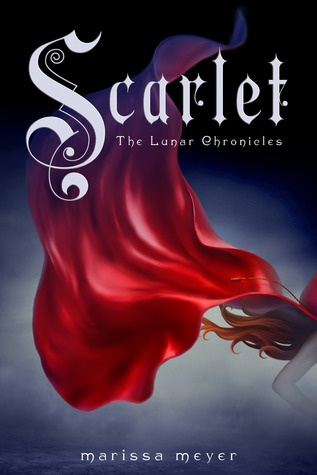 mechanic, returns in the second thrilling installment of the bestselling Lunar Chronicles. She's trying to break out of prison–even though if she succeeds, she'll be the Commonwealth's most wanted fugitive. Halfway around the world, Scarlet Benoit's grandmother is missing. It turns out there are many things Scarlet doesn't know about her grandmother or the grave danger she has lived in her whole life. When Scarlet encounters Wolf, a street fighter who may have information as to her grandmother's whereabouts, she is loath to trust this stranger, but is inexplicably drawn to him, and he to her. As Scarlet and Wolf unravel one mystery, they encounter another when they meet Cinder. Now, all of them must stay one step ahead of the vicious Lunar Queen Levana, who will do anything for the handsome Prince Kai to become her husband, her king, her prisoner. 
YES! I finally read this one and fear I waited far too long to pick it up. I swear, no one told me that this book would actually be better than Cinder (and I adored Cinder to no end and was so nervous to continue on). My 3 takeaways from this book:
1. NEW CHARACTERS. I mean, I loved the characters in the first book, but the addition of these new characters is just fantastic. Scarlet is AWESOME. Wolf is AWESOME. Thorne is AWESOME. I suppose I could have just summed it up and said they were all great. I was worried that adding new characters would make it kind of bogged down with details about them and the main plot of the story would be forgotten, but it was not and I am so thankful for these new characters.
2. CINDER. She just continues to be badass. She is thrown into quite the situation (which you would know if you read Cinder…sooooo you should probably read that and then Scarlet if you are confused) and she does everything she can to make the best of it and make sense of it. She is a fighter, and I love that about her.
3. FAIRY TALE CONNECTIONS. I just love how the author continues to intertwine all these fairy tales into this story. You know how when some people do that it just feels a little sloppy? Well, not in this case. It all works so well and helps continue to give the story twists and turns and makes it become even more amazing. I cannot gush about this enough.
I adored this one. And I did purchase book 3 and will be diving into it soon, but I fear the wait for book 4 so I am holding off until November is just a little bit closer.
Shatter Me by Tahereh Mafi– Juliette hasn't touched anyone in exactly 264 days. The last time she did, it was an accident, but The Reestablishment locked her up for murder. No one knows why Juliette's touch is fatal. As long as she doesn't hurt anyone else, no one really cares. The world is too busy crumbling to pieces to pay attention to a 17-year-old girl. Diseases are destroying the population, food is hard to find, birds don't fly anymore, and the clouds are the wrong color. The Reestablishment said their way was the only way to fix things, so they threw Juliette in a cell. Now so many people are dead that the survivors are whispering war – and The Reestablishment has changed its mind. Maybe Juliette is more than a tortured soul stuffed into a poisonous body. Maybe she's exactly what they need right now. Juliette has to make a choice: Be a weapon. Or be a warrior.
And now you are sitting there thinking "Emily..why in the world did you start yet ANOTHER series when you are trying to finish up some that you are in the middle of?"
Well…this one came highly recommended from SO MANY PEOPLE. And I was in the library (with my brand new library card that I had literally just gotten since I just moved to this area) and I saw it and decided it was fate. And…I LOVED IT! My 3 takeaways…
1. THAT WRITING STYLE. I was warned about it. I was told it was not the normal writing style, and so I think that helped a little bit. It was unique. The crossing out of words like on the back of the book. It was interesting, but it was enjoyable. I loved her writing style and I think it really added to the book and Juliette's story.
2. SWOON. That's all I can say. If you have read this you know what I am talking about. That romance…it's crazy. And it didn't feel fake and ridiculous. You know what I'm talking about. There are those times where it just feels like the author slaps some people together and calls it good. This was not one of those times. You could tell it was legitimate. All of it. I loved it.
3. HEARTBREAK. I must say, this book comes with a ton of heartbreak for the reader. Just know that. Or maybe it was me that felt that way. My heart ached for them when I found out what their life situations were like prior to this story. I love when an author can make you care like that. I just wanted to make everything better for them. It was heartbreak, but in the best way (does that make sense).
Book 2 is sitting next to my bed, and yes… you guessed it. I am terrified to start it. Mostly because I know after finishing it I will want book 3 and it was not in the library the last time I was there. But I will crack it open and SOON.
I'll Meet You There by Heather Demetrios– 
If seventeen-year-old Skylar Evans were a typical Creek View girl, her future would involve a double-wide trailer, a baby on her hip, and the graveyard shift at Taco Bell. But after graduation, the only thing standing between straightedge Skylar and art school are three minimum-wage months of summer. Skylar can taste the freedom—that is, until her mother loses her job and everything starts coming apart. Torn between her dreams and the people she loves, Skylar realizes everything she's ever worked for is on the line. Nineteen-year-old Josh Mitchell had a different ticket out of Creek View: the Marines. But after his leg is blown off in Afghanistan, he returns home, a shell of the cocksure boy he used to be. What brings Skylar and Josh together is working at the Paradise—a quirky motel off California's dusty Highway 99. Despite their differences, their shared isolation turns into an unexpected friendship and soon, something deeper. 
OH MY GOSH. Let me just gather my feelings to try to tell you about this one. I had thought about writing a post JUST about this one, but there are so many people GUSHING about this particular book, so I thought this was the best way to talk about it. I laughed, I cried, I cheered them on. This book wrecked me in the best way possible (yes, remember…that's a thing). Here are my 3 takeaways.
1. IT FELT REAL. Ok, you know how you get those books about subjects, such as PTSD, that just feel forced and fake and you sit there not believing it…this was not one of those stories. Yes, it took some of the stereotypical issues that soldiers that come back and experience PTSD face, but it also reminded me as a reader about them. It wasn't just that they were uncomfortable in certain situations because of what they had faced (fireworks..) it was also just simple sentences that would take them back. Josh felt real. His PTSD and all the stuff he was going through felt real. That is pretty rare. Not only that but everything else felt real. The drama felt real, the life situations felt real. I felt like I could relate to various parts of this book.
2. THE CHARACTERS WERE SO GOOD. I loved Skylar. Trying her best to make the most of her life instead of getting stuck in a town that would probably bring her down. She was a strong and courageous young woman, even when she didn't realize it. Josh was amazing too. It's like you could watch him grow, or trying to grow, from what he was going through and reaching out.  There was so much to ALL the characters in the book and I was sitting there just wanting to help them fix their problems.
3. IT BRINGS ATTENTION TO REAL LIFE ISSUES. If you read this and didn't start to think about all those going through what Josh was going through then I honestly don't know what goes on in your head. It's all I could think about. I just kept thinking about all those soldiers coming back and having to try to be a civilian again after all that they have seen. It breaks my heart. They don't get the help they need. I hope that this book gives this particular real life issue the attention it needs. We all need to be aware. We all need to try to help as best as we can, even if it's just saying a prayer for them.
I have no stopped thinking about this book guys. I seriously haven't. At times, when I was being pulled away from it for other things, I just couldn't shake the feelings it was giving me. It just amazing me that an author can create a story that sticks with a reader such as this one. I loved it.
And…on a lighter note…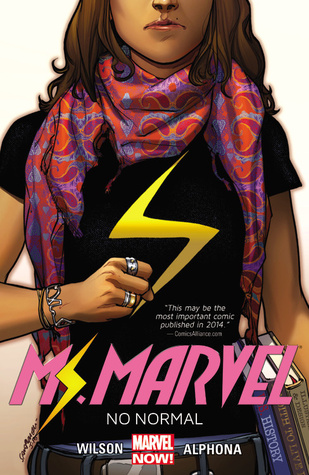 Ms.Marvel, Vol. 1: No Normal by G. Willow Wilson– Kamala Khan is an ordinary girl from Jersey City — until she's suddenly empowered with extraordinary gifts. But who truly is the new Ms. Marvel? Teenager? Muslim? Inhuman? Find out as she takes the Marvel Universe by storm! When Kamala discovers the dangers of her newfound powers, she unlocks a secret behind them, as well. Is Kamala ready to wield these immense new gifts? Or will the weight of the legacy before her be too much to bear? Kamala has no idea, either. But she's comin' for you, New York! 
Confession…I do enjoy graphic novels. I've read The Walking Dead (just behind with the most recent one and I NEED IT. Yes, this means I know whats coming on the TV show. Yes, that means I laugh a little when you complain about things online..), half of the Sandman, The Killing Joke, Deadpool, and more. It's kind of nice to break up my reading with something slightly lighthearted, or really something shorter that does not take AS much of my concentration.
I can see why this particular graphic novel was so popular. It was really good. I loved Kamala. She was your average 16 year old girl, and I honestly think she reacted to get her special powers as I would as a 16 year old. Really fun to see a female, and a somewhat "normal" female at that (normal is such a funny word), rising to the occasion and NOT reacting to all of what is going on in a bizarre way. I loved it and cannot wait to read the next one.
Well..that ended up being longer than I had anticipated. Have you read any of these? What did you think? I would LOVE to hear how you feel about these books.