This week's Top Ten topic is a FREEBIE! And being that I was having a hard time coming up with a topic I decided to look at past Top Ten Tuesdays, since I have not been doing them that long, and found the perfect topic. Today I will be listing ten books I already own but have not quite yet read. This list is in no particular order. So here we go: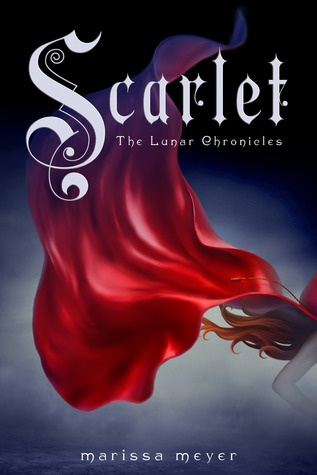 1. Scarlet by Marissa Meyer– In general, I want to catch up on the entire Lunar Chronicles series. I loved Cinder and I know I need to jump back into this. It's sitting in my apartment. I can tell you exactly where it is (in a stack of books next to my bed) but I just have not picked it up for some unknown reason. I think I'm a bit of an ADD reader. I am so distracted by anything else.
It's not that I don't love the books, I just have so much I want to read. I'll jump on this one soon (one of my goals is to catch up on series that I am super far behind in). 
2. Shades of Earth by Beth Revis– Ooooohhhhh look, another series I need to finish. Across the Universe was great as was A Million Suns. It was such an interesting world that she created, and there is SO MUCH drama. And NO love triangle and the fact that the romance is not the entire point of the story. Oh, I loved it. Why haven't I picked it up yet? Why? Why? Why? I have had every intention to do so. Can't say I love finishing a series. I actually kind of dread it. Once you read the last book it's officially over, and how many times do the books end in ways that you feel like they should? I'm sooooo nervous to read this book, but since my goal is to finish a few series that I started I probably should get on it.
3. Through the Ever Night by Veronica Rossi– Yep, I just decided to put all the ones that would help me finish a series at the top of the list. I loved Under the Never Sky. Loved it so much. The world…the characters…AH, so good.Again, I struggle to understand just why I have not picked up the second book. I have it. It's on my nook. I flew through the first one in just a few days. I feel like an idiot
I think I need to review what happened in the first book before diving into this particular book, but I'll definitely be needing to read this one this year as well. 
4. Jane Eyre by Charlotte Bronte– I started this. And I was loving it so much. But it is not the happiest of books and at the time I was not in the happiest of situations (just moved, no job, no job prospects, knowing absolutely no one in the area I just moved to…yea, I was depressed…still working on it). I decided it was in my best interest to put it down and come back to. I can see it now, sitting on the mantle with a lot of my other pretty classics (which I know I have more to read). I love it so far, but I'm still not sure I'm in the right place just quite yet to read it. I'm working on changing a few things, becoming a little more positive and whatnot, and hopefully when I'm in a better mood (because this can't last FOREVER) I can get back into it.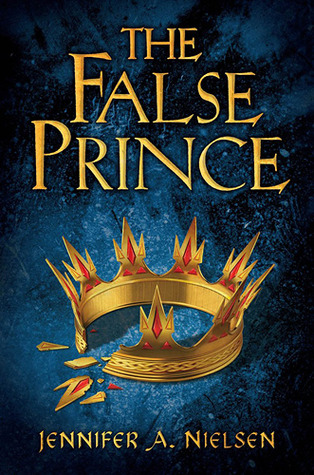 5. The False Prince by Jennifer Nielsen– I honestly can't remember when I bought this. At least a year or two ago. This book sounds so interesting and right up my alley. I've been in such a fantasy kick lately, and it seems to have been going on like that for awhile.
I think one of the reasons I've been a little hesitant to start is because getting a new trilogy going when I clearly have many other to finish is kind of scary. I mean I'd finish this one and then add two MORE books on to my to read list? Yea, that'll probably happen. I look forward to diving into this one eventually. 
6. Queen of the Tearling by Erika Johansen– Last year I was searching for this book CONSTANTLY. I heard great reviews, and then BAM…$1.99 for the nook book! Since I was struggling so much to find it in the library I decided I could splurge and get it so that I would be able to read it. And there it has sat. I haven't even touched it. How sad is that? I told you I was on a fantasy kick lately, and this is just one of the many. I will start this one (though the size of the book is just a little intimidating). I hear they are making a movie adaptation. So we all know I will be reading it before that movie adaptation comes out. This is just another case of me being such a distracted reader.
7. The Kitchen House by Kathleen Grissom– This was another book I had a lot of difficulty getting my hands on when I worked at the library. We had it in large print, but I was not too keen on checking out the large print version when I did not really need it. So I was kind of waiting until I could find it in the store. And it has been sitting with the rest of my books ever since.
I love historical fiction. I really do. I find it such an interesting way to look at a period of history without necessarily looking through a true story. I can learn so much from it. I will definitely be picking this one back up soon. It just sounds so good (and it comes highly recommended by many people).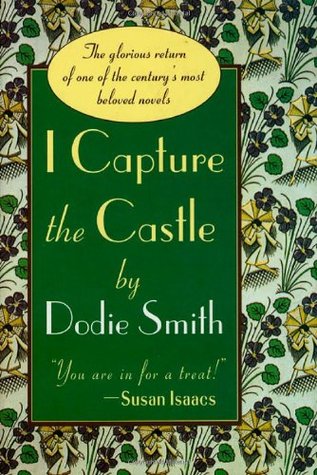 8. I Capture the Castle by Dodie Smith– Oh my gosh this has been on my list for FOREVER. It sounds so interesting, and I have heard so many positive review about it. Should we talk about how hard this one was to find?? Oh my gosh. It wasn't at the library. It was at like one library in the entire system but it was always checked out. And I really try to limit how much I request, because even when it looks like they won't all come at the same time we know that you will get all of your requests at the same time. It's just how it happens. And then I struggled to find it at a book store. I shop at a lot of second hand book stores. It's just a pretty solid way to get books. I could never find it. And now that I have it…where do you think it is? It's sitting in a bookshelf waiting to be read. I'll get to this one too, I swear.
9. Those Who Save Us by Jenna Blum– One of my favorite periods to read about in historical fiction is probably the WWII era. Why? I have no idea. It's hard to imagine just all that happened. It's hard for me to picture just how terrible people can be. Seriously, to treat humans in such a way…it's just terrible. So why do I insist on reading about it? I like to hear about survivors. I know that not all of these stories are about actual people but a lot are based on people who perservered through such a terrible time. I like to see that even though all the bad there can be good.
So I bought this one, after it was highly recommended to me. And it has sat on my shelf. For a long time. I have planned to pick it up multiple times, but just haven't gotten there yet.
10. All The Light There Was by Nancy Kricorian– Yes, another WWII book. This book is about the roundup of the Jews living in Paris. I've read books about this before, but not from the perspective of an Armenian family (Goodreads says if you liked Sarah's Key you would probably like this book. Yes please!). I just really do love reading about this period. I hate the events that happened, but I love seeing that yes, people did survive and some good did come out of the bad. I had this book, but I had to give it back and had a hard time tracking it down. Then it was a 99 cent nook book and I just had to grab it. And there it has sat.
I realize this makes it sound like I have a book buying problem. I am pretty sure I once did. I used to go book shopping a lot. Since working at a library and then moving and having to be a little more careful with my finances (ok, a lot more careful) I have really tried hard to get books for free at the library lately. I mean I've bought books, but they've been with money that was gifted to me for that specific purpose. I definitely need to work on reading what I own this year. Hoping this list can grow smaller soon.
So how about you? Any books you own that you realize you haven't read?