Add The Sea of Tranquility on Goodreads!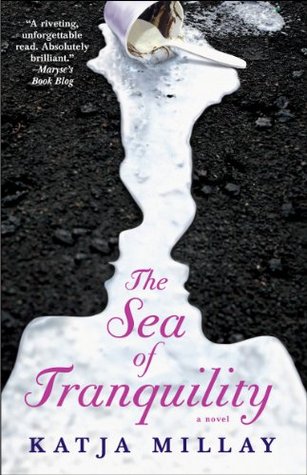 I live in a world without magic or miracles. A place where there are no clairvoyants or shapeshifters, no angels or superhuman boys to save you. A place where people die and music disintegrates and things suck. I am pressed so hard against the earth by the weight of reality that some days I wonder how I am still able to lift my feet to walk. Former piano prodigy Nastya Kashnikov wants two things: to get through high school without anyone learning about her past and to make the boy who took everything from her—her identity, her spirit, her will to live—pay. Josh Bennett's story is no secret: every person he loves has been taken from his life until, at seventeen years old, there is no one left. Now all he wants is be left alone and people allow it because when your name is synonymous with death, everyone tends to give you your space. Everyone except Nastya, the mysterious new girl at school who starts showing up and won't go away until she's insinuated herself into every aspect of his life. But the more he gets to know her, the more of an enigma she becomes. As their relationship intensifies and the unanswered questions begin to pile up, he starts to wonder if he will ever learn the secrets she's been hiding—or if he even wants to.
This book was so much, and much of that was not what I was expecting. To try to fit my words in this and to really convey my true feelings about this book is going to be tough, but I've decided to share the top three things I loved about this book.
1. The depection of grief. This is something that hit me hard, especially since some of the grief I have experienced in my life is similar to Josh Bennett's. Grief is something that is experienced in many different ways. I know sometimes people try to make it fit into certain molds, but it doesn't. This book shows that. This book shows how some turn to anger, and just how different that anger can be from one person to the next. It shows how grief can rock your world so much, and how you can overcome it even when you hit your lowest low. I loved that. I loved that even when these feelings seemed to be destroying the characters they took it in stride. I felt that, in a way, I could relate to it. That really got me.
2. The characters. OHHHHH the characters. Nastya was a tough girl. Sassy, snarky, and yet dealing with so much and trying not to show it. I loved the mystery of her (though, the things she kept hidden were a bit intense). With each chapter you learn more about her, both good and bad, and she just continues to grow. Josh Bennett is one I relate to the most. With his personal grief and the way he handles it I kind of felt that I could have been friends with him. He is such a sweet guy with so much going for him, but with so much sadness in his past. The two of them together…AH! It was perfect. I loved Drew. He was that loveable asshole that I kind of want in my life. I kind of loved each and every minor character (minus a few OBVIOUS ones) because I could see where each of their stories were coming from and found a lot of ways to relate. Millay really created some awesome characters.
3. The writing. Seriously, this book flowed so well. I just wanted to keep reading. She had me feeling all kinds of emotions throughout the book. I was happy, sad, angry, and overjoyed so many times. I felt for all these characters because they all have gone through something in their lives, as is true in real life. It made me really stop and think about how I'm treating those around me. So many people keep their issues in life hidden. Am I treating them in a way that is helpful to them or not? I love books that make me think about real life in this way. There are so many times where I had to stop and get my head in check because I was so lost in this story and in their lives. I love when an author can do that.
This book was so great. Seriously, I highly recommend getting it and reading it. I was so lost in it that I felt that I flew through it. I have no complaints. I honestly don't know what else to say about it. Having a very hard time coming up with words just to describe my love for it. GO GET IT!
Anyone else read this book? What were your thoughts? Anything similar to this that I should add to my every growing TBR?